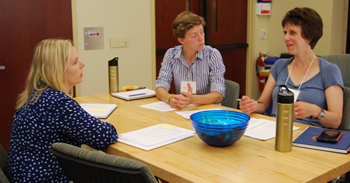 The Mathematics Education Lab focuses on factors associated with teacher development with particular attention toward curriculum studies, technology design, and teacher leadership.
Projects
Click the title of the project to view the description.
Instructional Coaching in Chilean Mathematics Classes
Instructional Coaching in Chilean Mathematics Classes
In 2015, the Chilean Ministry of Education regulated that all schools adopt a new instructional framework, Decree 83, which "calls for educational communities to act with creativity and autonomy in search of diverse, flexible, and enriching educational responses that offer opportunities for participation, learning, and integral development for all of their students." This decree is based on the Universal Design for Learning (UDL) framework which took hold in U.S. education over the past decade. The principles associated with the UDL framework are most strongly supported by an adoption of Tomlinson's philosophy of differentiated instruction.
Through this study, we are investigating the impacts of introducing Chilean teachers to the differentiated instruction teaching philosophy through an instructional coaching model. Using this model, instructional coaches work with faculty from several schools in and around Santiago, Chile to expose them to the differentiated instruction philosophy. We are interested in learning whether this professional development model changes mathematics teacher practices and beliefs, and has an impact on student achievement, engagement or self-efficacy. We are also interested in identifying the critical components of the model that influence its efficacy.
Project partner website: Tandem Profesores