The Collaboration to Refine and Enhance Science Teaching (CREST)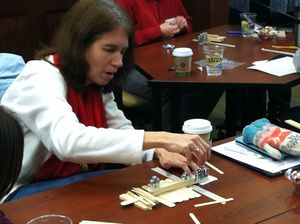 The release of the Next Generation Science Standards in 2013 articulated what we want students to know and be able to do in K-12 science. However, this document does not provide extensive guidance for teachers about how to adapt their practice to help students reach these goals. This problem is further complicated in Catholic schools in which one science teacher is responsible for all middle school grades and has few opportunities to collaborate with other content-specific practitioners.
CREST is a partnership between South Bend Catholic Schools and the Notre Dame Center for STEM Education that works to improve science education for students in the middle grades.
The program is driven by the following components:
Professional learning communities among science teachers from South Bend Catholic schools
Monthly day-long professional development sessions with a science education facilitator at the University of Notre Dame
Focused discussion on and opportunities for enacting science practices and science core ideas
Development of coherent and engaging curricular pieces
Sixteen teachers from fourteen Catholic schools in South Bend, Mishawaka, and Elkhart currently participate in the program.