AP-TIP is pleased to share the results of its work
with schools across Indiana and elsewhere.

2018
Continued high levels of achievement in AP* math, science, and English courses saluted; AP-TIP IN program grows as Notre Dame supports teachers and students statewide
Number of Advanced Placement students continues to grow under AP-TIP IN
SOUTH BEND, IN – November 5, 2018 – AP-TIP IN is elated to report continued gains in the sixth year of its program designed to increase the number of high school students earning college credit from their successes in Advanced Placement* math, science, and English courses.
After completing six years in the program, participants demonstrated that the innovative model developed by the National Math and Science Initiative (NMSI) dramatically increases preparation and performance in the AP math, science, and English (MSE) tests. Students and teachers in the following 15 public high schools and 1 private high school continued their successful efforts supporting college- and career-readiness during the 2017-18 school year:
Argos Jr.-Sr. High School
Avon High School
Clay High School
Clinton Central Jr. Sr. High School
Griffith High School
Lowell High School
Marion High School
Merrillville High School
Michigan City High School
Mooresville High School
Muncie Central High School
New Albany High School
Northwestern High School
Providence Cristo Rey High School
Twin Lakes High School
Washington High School
More than 765 students in these schools achieved a score of 3, 4, or 5 on 949 AP MSE tests, thereby becoming eligible for college credit for those college courses. (Many students took more than one AP test.)
After two years of participating in AP-TIP IN, the number of participating schools' AP qualifying MSE scores (scores of 3, 4, or 5 that earn college credit) increased by 82 percent. This increase reflects the success of the AP-TIP IN and NMSI model of preparing both students and teachers for mastery of advanced subject matter, and increased access to and enrollment in, designated AP courses.
Minority students at Cohort 4 and 5 schools, particularly African American and Hispanic students, experienced great gains in the number of students taking MSE AP courses as the number of enrollments grew 48 percent compared to the "baseline" year. Additionally, enrollment in AP math and science courses for African American and Hispanic students increased by an average of 80 percent in the same time frame.
Female students from Cohort 4 and 5 schools made similar gains in math and science qualifying scores with an increase of 61 percent. Such strides among these key underrepresented groups prove that students, when provided the opportunity and support, can close the achievement gap as they become STEM-literate and geared for college success.
The NMSI model combines training and incentives for students and educators who want to take their high school expectations to the next level. Through the AP-TIP IN program, which is administered for Indiana by the University of Notre Dame's Institute for Educational Initiatives, participating public schools cooperate in year-round initiatives. These include extensive training of teachers, additional time-on-task for students through tutoring and exam preparation, and financial incentives for students and teachers when testing yields the qualifying scores.
After six years of implementation, more than 21,000 students at AP-TIP IN schools took over 30,600 AP math, science and English courses. Increasing enrollments and access to AP math, science, and English courses is a goal of this program; and this practice opens doors to college success among all participants. Of those 21,000 students, over 7,000 earned more than 12,000 qualifying scores in AP math, science and English courses. This translates to a savings in college credit for Indiana families of approximately $10 million.
AP-TIP IN acknowledges the successes of its teachers and schools by awarding AP-TIP IN
Teachers of the Year in the areas of Math, Science and English, and a School of the Year.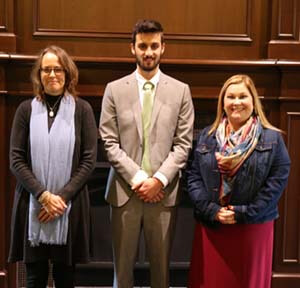 AP-TIP IN English Teacher of the Year Finalists
Maia Hawthorne – AP English Language and AP English Literature – Twin Lakes High School
Carter McClure – AP English Language – Muncie Central High School
Melissa Sickinger – AP English Language – Merrillville High School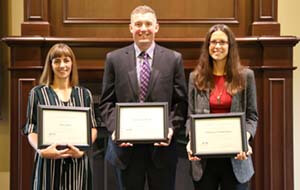 AP-TIP IN Math Teacher of the Year Finalists
Jonathan Arndt – AP Calculus AB – Argos Junior-Senior High School
Dana Bell – AP Statistics – Lowell High School
Christine Chidichimo – AP Calculus AB and AP Calculus BC – Griffith High School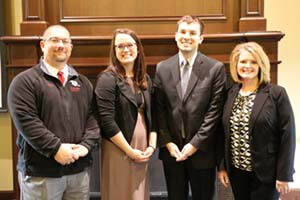 AP-TIP IN Science Teacher of the Year Finalists
Kathleen Kozinski – AP Chemistry – Avon High School
Matthew Payne – AP Chemistry – Avon High School
Clark Mumaw – AP Chemistry – New Albany High School
Kristi Phillippe – AP Biology – Marion High School

AP-TIP IN Affiliate School of the Year Finalists
Pike High School – Indianapolis, Indiana
Speedway High School – Speedway, Indiana
Whiteland Community High School – Whiteland, Indiana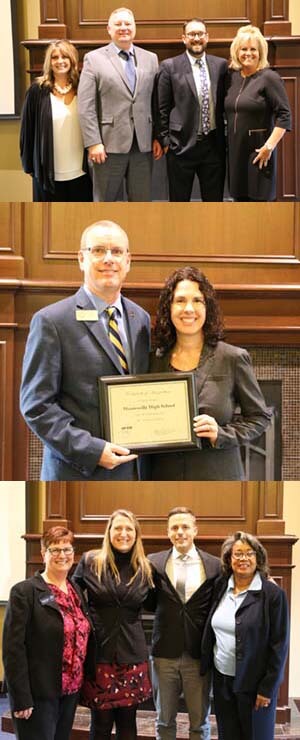 AP-TIP IN School of the Year FINALISTS
Lowell High School – Lowell, Indiana
Michigan City High School – Michigan City, Indiana
Mooresville High School – Mooresville, Indiana
Thank you to our supporters
Lilly Endowment, Inc. for Cohort Schools from 2016 to 2020
Community Foundation of St. Joseph County, for Washington High School from 2016 to 2019
Indiana Commission for Higher Education for Cohorts 4 and 5 from 2017 to 2018