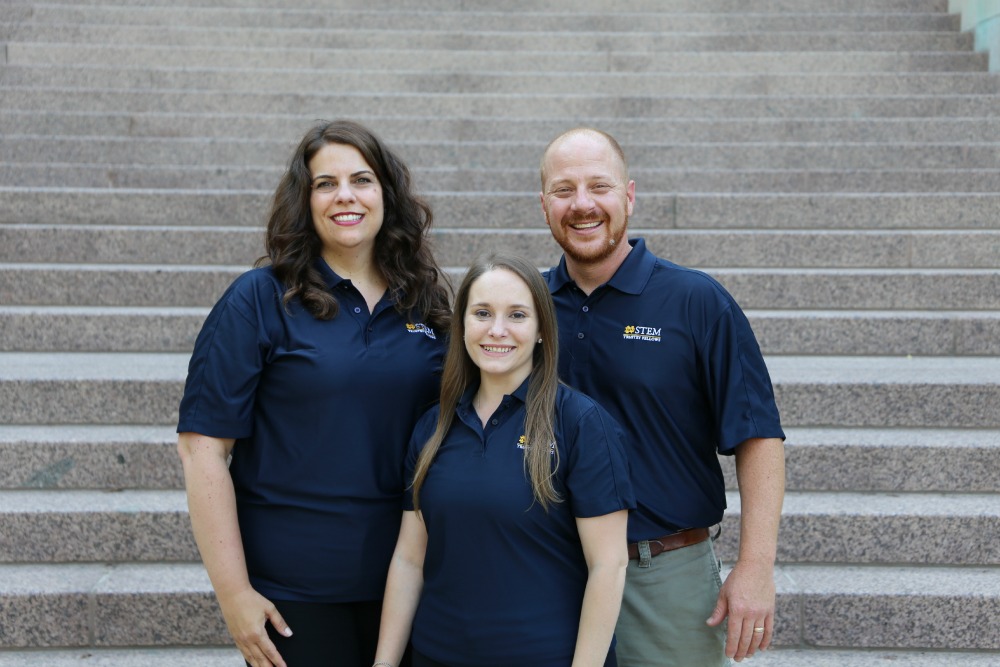 School Location:
Dana Point, California
Fellows:
Noah Loungarikis
Regina Bork
Stacie Rego
School Website:
http://www.stedschool.org/
School Team of the Month - January 2016
What's the most ambitious element of your STEM Impact Plan work so far?
The most ambitious part of our STEM Impact Plan has been our MakerSpace project. Learners in grades 5-8 have been involved in this long-term project in which they design and justify the items they would buy for our future MakerSpace. In class, learners incorporate multiple mathematical and engineering concepts to create a design within a given budget.
As our students have not had experience with long-term, integrated projects, it is pushing them to higher levels of achievement. As we continue to encourage grappling and building fortitude, it's exciting to see our learners truly challenged academically!
What exciting STEM experiences are happening at The Parish School?
This year in 8th grade Language Arts, our learners read "Alice In Wonderland". In our 8th grade science lab, we took a look at the character of the Mad Hatter and studied the 'maddening' effects of mercury poisoning on the brain due to exposure to the heavy metal from some felting processes. We taught the learners how felt could be made safely by using wool roving, dish soap, and hot and cold-water baths. The learners loved learning about how natural textiles are made and enjoyed engineering the felting machine out of sushi mats!
In fifth grade, learners were asked to aid third grade in the development of their learning garden. Our classes were tasked with designing and building planters that would support local succulents, requiring proper drainage and space, within the constraints of a budget. One group is experimenting with including magnets within their design to ensure proper drainage supported by levitating the planter. Learners are very excited and invested in this project, given that it serves a real need within our school community.
In what ways have you been able to engage other members of your school, local community, or other STEM Teaching Fellows?
One of the ways in which we have engaged our school is that a number of the Upper School instructors have sought collaborative opportunities to extend their content into a STEM experience. In 6th grade Social Studies, our students learn about Ancient Egypt, so we will be mummifying hot dogs in 6th grade science lab and calculating and plotting the percent change in hot dog mass, length, and girth in 6th grade math.
Additionally, we continue to stay active locally by engaging in local STEM activities such as You Be The Chemist and hosting local scientific companies who offer real world, hands-on discovery opportunities with our learners. Such activities are generated and orchestrated through our amazing school-community based STREAM Task Force.