Trustey Family STEM Teaching Fellows April Update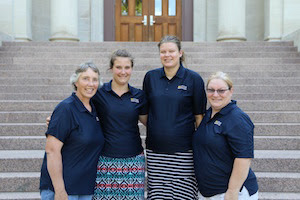 Summer is rapidly approaching and the Trustey Family STEM Teaching Fellows Summer Institute will be here before you know it! We have a few updates as we get close:
First, we are excited to announce Cohort 2! Thirty-one teachers and nine schools will join the current members of Cohort 1 in improving the learning and teaching of the STEM disciplines at their respective schools. Cohort 2 includes the following school teams:
Clara Barton, Cherry Hill, NJ

Holy Family-Annunciation Catholic School, Jacksonville, FL

Malcolm X, Washington, DC

Mansfeld STEM Magnet Middle School, Tucson, AZ

Our Lady of Lourdes Regional School, Coal Township, PA

Our Lady of Perpetual Help, Riverside, CA

St. Anthony de Padua Catholic School, South Bend, IN

St. John XXIII Catholic School, Scottsdale, AZ

STEM Coalition, Los Angeles, CA
Second, our team from the Diocese of La Crosse Schools checks in about their STEM Impact Plan and STEM efforts in their schools: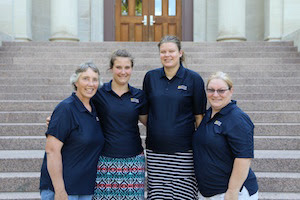 What's the most ambitious element of your STEM Impact Plan work so far?
Our most ambitious piece of our STEM Impact Plan was to introduce our whole school community, (students, staff, parents) to STEM and the engineering design process. Anneleisa has worked on implementing at least one large STEM project with each teacher during both semesters. She is meeting with each of the teachers individually to go over one lesson they would like to transform into a STEM lesson/project.
What exciting STEM experiences are happening in your schools?
During Catholic Schools Week, St. Mary's held a 19-team STEM engineering design challenge. It was based on the Dr. Seuss story "Oh, the Places You'll Go." The teams engineered a structure that had to be at least 12' tall. This challenge far exceeded our expectations. The All School Science Fair was redesigned to ensure all grades were incorporating STEM concepts and the Engineering Design Process in their projects, including a focus on citizen science in 6th grade!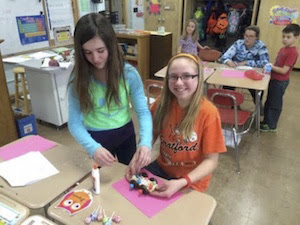 The 8th graders at Assumption created sustainable biodegradable vehicle frames during the first semester. This was a project that pushed them to construct the lightest frame from food that could hold 100g.
All students at St. Joseph participated in a school-wide STEM project day. Each group was tasked with designing an edible vehicle.
In what ways have you been able to engage other members of your school, local community, or other STEM Teaching Fellows?
With the Dr. Seuss Challenge, we invited our local radio station owner to come and read to the student body the story "Oh, the Places You'll Go" prior to the challenge. We also had parents who are engineers visit and talk to the teams about the importance of learning all they can about problem solving, team building, and success and failure in their work.
Our "More than Planting Seeds Project" is well underway. This project has pea shoots from La Crosse sprouting up throughout the United States. We have been able to mentor other Fellow Teams, other local schools, and other out-of-state schools not affiliated with Notre Dame or our school. Shirley will be presenting this project at the Wisconsin Society of Science Teachers Conference in April.
We can't wait to see you all on July 17th here on campus and begin our work together!