Programming Fun into a STEM Summer
Carolyn Keefe - Summer STEM Camp Instructor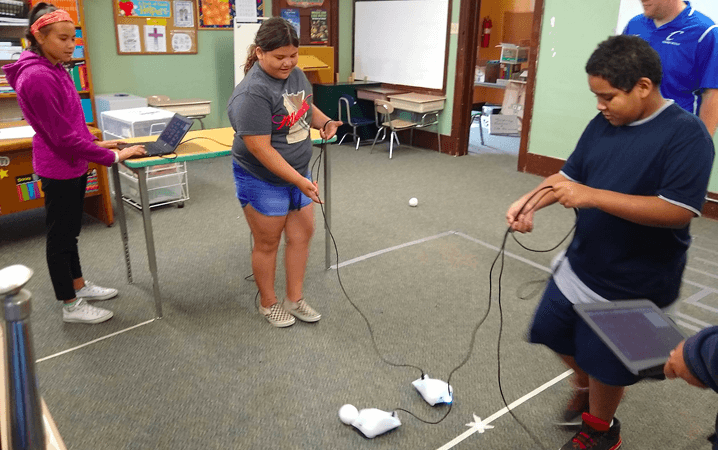 Robots. Vampires. Soccer. Computer games. Dance parties. Chickens.
While this eclectic list may very well look like the YouTube search history of a 12-year-old, this list was also part of the lesson plan for a middle school STEM camp I led this summer.
Summer in Minnesota
Yes, robot soccer and squirrel-themed dance parties were the means by which my campers learned and applied computer programming concepts. I am a high school science teacher during the school year, and I love working with young adults, but there is something about the uninhibited enthusiasm and goofiness of middle schoolers that draws me back, summer after summer, to teach one of the STEM camps hosted nationally through the University of Notre Dame Center for STEM Education. This past summer, I made my way to St. Mary's Mission School, part of the American Indian Catholic Schools Network, in Red Lake, Minnesota, to teach the ND CORE coding and programming camp.
Red Lake is an Ojibwe reservation about four and a half hours north of Minneapolis. The landscape of the reservation is captivating: dark pine tree forests studded with white birch tree trunks and carpeted with wild blueberries, cows at pasture among wildflowers, and the ocean-like expanse of Lower Red Lake. Like all middle schoolers in mid-July, the Red Lake STEM camp students had summer activities on their minds: going to the water park, visiting relatives, and playing video games. One student had spent part of her summer dancing in regional powwows, while another had just returned from visiting her cousins in Missouri.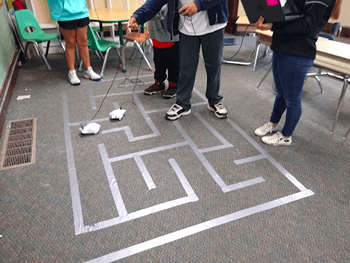 For these two weeks, the young people coming to the ND CORE camp would be drawing on their creativity to make "Finches" - bird-like robots that can roll around, make sounds, speak, light up, and sense obstacles - sing, dance, and play soccer. Although it was the first programming experience for many students, they quickly realized their power to unleash the robots' unfettered possibilities through block-based coding.
Robot Soccer and Mazes
We went big early in the week: robot mazes and robot soccer, all functioning as the result of the logic puzzle that played out on the programming screen. The excitement of the U.S. women's soccer team's recent World Cup win had nothing on the fervor and determination with which my students played robot soccer. With one partner holding the Chromebook and furiously keying commands and the other partner guiding the robot's cords, the two different teams' Finches pushed a wiffle ball back and forth with a maddening goal-for-goal intensity. Artificial cyber-voices taunted each other – "Get out of the way" and "We are going to win, hee-hee" – while the Finches' beaks lit up with their team colors. To those who lament that students' attention spans are shrinking: you haven't seen middle-schoolers program and play robot soccer.
Finch soccer was just the beginning. Campers discovered that they could master more advanced code to program complex behavior. Finches became vampires when the lights were turned off, cruising forward with red beaks and more "hee-hees," but shrinking away from the light of a flashlight. One student programmed his robot to dance to a disco beat, another programmed her robot to draw a design on the gym floor. By the end of the first week, students were confidently using programming language of looping, if-then-else code, variables, and operators.
Animations, Dance Parties, and Pet Robots
As the camp progressed, students explored the power of an online language, Scratch, that had them making mazes, animations, and dance parties. All of their efforts culminated in a capstone project in which students took all they knew to code and decorate the Finch into a robotic pet. Seeing one young man proudly program his robotic chicken, even recording his own clucking sounds was an amazing experience, only topped by my memory of seeing the middle school students demonstrate their coding to the elementary school campers. Paired with their wide-eyed buddies, my programmers were proud to show off how much they had learned and how complex their code was.
Going Forward
Robot chickens and dance parties really do work wonders. At the conclusion of the camp, the aspiring young programmer of the robotic chicken told me that though he was sad that camp was ending, he was eager to continue working on his Scratch projects at home. It's possible that he will grow up to be a computer programmer, or it's possible that STEM camp will end up as just a fun summer memory. I will be proud of both outcomes.
Regardless of whether my students pursue interests and careers in the STEM field, I do hope they bring the same creativity, logic, critical thinking, patience, and excitement to their future endeavors as what I witnessed in the two weeks of summer camp. Perhaps their careers won't involve playing robot soccer all day, but I'm excited for what's ahead of these bright students, and I am grateful for the opportunity to have worked with and learned from them.
---
Interested in learning more about our summer camps? Visit https://stemeducation.nd.edu/stem-summer-camps.
No video selected.