Extending STEM Beyond the Classroom Walls
Karl Ochsner, Trustey Fellows Cohort 2 - St. John XXIII Catholic School in Scottsdale, AZ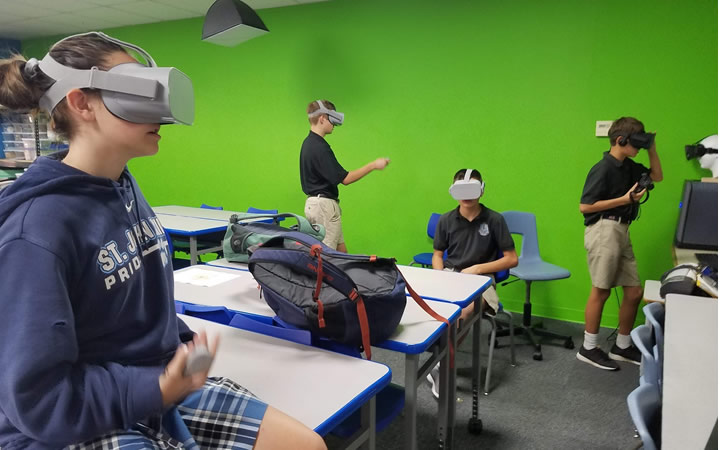 In 2008, I was asked to move up to teach seventh- and eighth-grade science. With this change, I inherited our school's annual middle school science fair. Students created individual projects using the scientific method and were judged by parent volunteers. Unsurprisingly, students created many projects based on the Coke and Pepsi taste test, Mentos and Dr. Pepper geyser experiments, and volcanoes that shoot out red food dye. These projects hinted at the fundamental principles of science, but they lacked civic engagement, engineering design, and the essential 21st-century learning skills that businesses have been asking our education systems to incorporate into their curriculums.
National Project-Based Learning Opportunities
Today I teach STEM to sixth, seventh, and eighth graders. I've moved beyond the science fairs of the past by integrating three sponsored, project-based learning competitions that correlate with the curriculum standards taught in middle school science, technology and math. These STEM projects incorporate science, technology, engineering, and math with the 21st-century learning skills of collaboration, teamwork, critical thinking, problem solving, and global and cultural awareness.
In sixth grade, we participate in Toshiba's Exploravision Competition. The students find a problem in their community, match it to an existing technology, and then envision what that technology will look like 20 years from now to solve their problem. Students write about the history and present the capabilities of existing technology, and then they design the prototype technology to show how the new version works. They also describe the breakthroughs needed to create the future technology, and they detail the positive and negative consequences that may occur from using this prototype. The students work in groups of five to write an 11-page paper, design a 3D-printed prototype, and create a five-page website to promote their idea. One group this year wanted to find a use for nanobots to personalize form-fit shoes to prevent plantar fasciitis. It is amazing to see the diversity of students' imaginations when participating in this competition!
In seventh grade, we work on the Honeywell / Fiestabowl Aerospace Challenge. The students collaborate in groups of three or four to plan and design a 10-year mission to Mars' moon Phobos that will sustain up to 24 astronauts. Students design a habitation, recreation, and work module, plan a secondary mission, and build a one-meter prototype of their base in progressive years. Students then defend their project at Arizona State University to Honeywell Aerospace Engineers. They calculate how much energy, air, and food would be necessary to keep their astronauts in top condition. Students have learned Newton's Laws and basic astronomy in their science class, so this competition gives them the opportunity to apply this knowledge.
My eighth graders work on the U.S. Army-Sponsored e-Cybermission challenge. This competition asks students in groups of three to four to address a problem in their community with either a prototype solution created by using the engineering process or an experiment using the scientific process. This national competition has step-by-step plans, provides professional STEM leaders for the students to contact for help, and results in a digital portfolio created by students. My students have programmed a blockchain to prevent voting fraud, tested different additives for cement to help lower radiative heat temperatures in Phoenix, and designed an inexpensive waterproof patch for kids that will alert a parent's phone if their head is underwater for a length of time. These projects illustrate how a competition like this can encourage students to use their STEM skills to be forces for good in this world!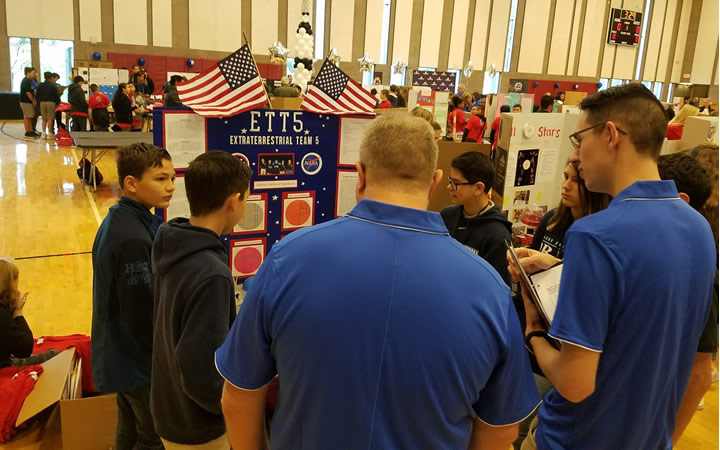 Why use a Corporate-Sponsored Competition?
There is no better way to show students that what they are working on will extend past the four walls of the classroom. The projects are seen by judges all over the U.S. who are not only teachers, but experts in the field of STEM. Some judges build rockets, prevent chemical plants from exploding, and protect our country. They are impartial, provide rules and teaching ideas, include rubrics, and provide prizes or scholarships to incentivize students to do their best work. The competitions also have built-in equity components to help student groups who cannot afford to participate by including grants or scholarships to purchase items to aid their project ideas. Beyond these three competitions, many other corporate-sponsored, project-based learning opportunities incorporate civic engagement with meaningful STEM curricula.
And MOST OF ALL, parents LOVE collaborative projects! Okay, yes, I do hear from many parents who talk about how their child cannot work with other students. I tell them that this is the BEST time for them to make mistakes, get dirty, and tackle problems before they reach high school and college. Without opportunities to work together, students will have a harder time negotiating other projects in their future. I tell my fellow teachers the same thing–just try out a problem-based learning project. Why reinvent the wheel in your classroom when your students can create projects that will positively impact their community and extend learning beyond school boundaries?
No video selected.